Langwellen Experiment mit passiver Ferritantenne
longwave experiment with passiv ferritantenna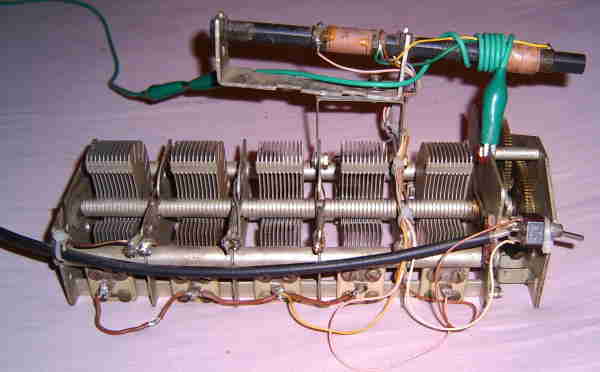 Der Drehkomdensator stammt aus einem alten Militär Funkgerät, die Ferrit Antenne aus einem alten Radio. Die Spulen wurden nicht geändert. Die grüne Prüfstrippe koppelt meine 35m lange Drahtantenne locker an den Schwingkreis.
a tuning capacitor from an old military shortwave tranciever and the ferrit antenna from an old radio makes a simple passive longwave setup. the green wire connects my 35m antenna wire that lifts up the signals a lot.

Das ist Version 2. Die drei Schaltbareiche decken jetzt 70 - 360, 300 - 1440 und 430 - 1900 KHz ab. Die Resonanz im LW Bereich ist sehr scharf, etwa 1 KHz.


the 2nd version has a 3 position switch to fill the frequency gap. tuning range on LW is 70~360 KHZ with 4 cap packs. resonance is verry sharp, about 1 KHz or less. 160m HAM band is tunabel with the MW coil and 1 capacitor pack.

Der Emfang ist ruhig, die Signale sind nicht sehr stark. Die Ankopplung der Drahtantenne muss sehr locker sein. Bei zu starker kopplung nehmen Prasselstörungen stark zu. Im Langwellen Bereich ist die Antenne sehr selektiv.
---

Um die Antenne auch auf Grenzwelle einsetzen zu können werde ich eine weitere Spule wickeln. Der neue Bereich soll dann das 160m und 80m Band abdecken. Ob der Ferritstab auch im 5 bzw. 7 MHz Bereich noch brauchbare Ergebisse liefern kann weiss ich (noch) nicht.
i will make another coil to use the antenna on 80 and 160m band, dont know how the ferrit material works on 5 or 7 MHz.

Am Ende soll ein (relativ) kompaktes Gerät mit Vorverstärker oder Impedanzwandler und um 90° drehbarer Ferrit Antenne im Holzgehäse entstehen.
at the end i like to have a wodden box with preeamp and 90° turnable antenna.